OMIGOSH I DID IT!!!!!!!!!!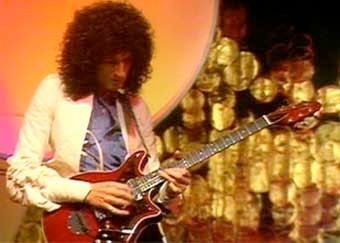 OMIGOSH OMIGOSH OMIGOSH! I FLIPPING DID IT!!!!!!!!! XD

I emailed Brian May!!!!!!!!!!!!!!!!!!!!!!!!!!!!!!!!!!!!!!!!!!!!!!!!!!!!!!!!!!!!!!!!!!!!!!!!!!!!
I was SO nervous!
Okay, so here's what I wrote:

You will be pleased to know that the "Galaxy Song" video you posted helped us out in science class! I'm a 14 year old taking physical science, and even though we're not studying astronomy (a little bit, but sadly not enough to really even mention), I thought that my teacher would like to see the video. She loved it! She played it for the class, called in another science teacher to have a look at it, and even emailed it to all of the other 8th grade science teachers in our school. I have to admit, I was pretty embarrassed (she played it LITERALLY five times), but it really lightened the mood; her class, although informative is quite...boring. While showing it to her, I got several raised eyebrows from the other students in my class...but that's okay! It was fun, so it was worth it.

I also wanted to say that, even though it has nothing to do with what I was writing about, Queen is my favorite band. I've gotten a lot of people my age listening to you...I love you guys! It really ticks me off that I'm too young to have ever gone to a Queen concert while Freddie was still fronting the band...Queen has inspired me so much; just listening to your music can make even my worst of moods a good one. I just wanted to add that in while I've still got the courage to email you! : )

Best Wishes from the US,
Emily Ward

KEEP YOUR FINGERS CROSSED FOR A REPLY! XD



Holy crap, I emailed Brian May...I'm communicating with Brian May...omigoshomigoshomigoshomisgosh...I think I'm gonna hypervenilate...