I GOT KICKED OUT OF THE MALL!!!
Firstly, here are some more of the pictures of Freddie's I promised:
Jimi Hendrix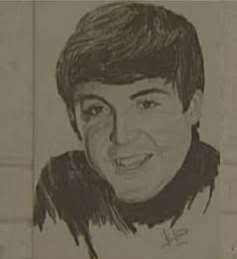 Paul McCartney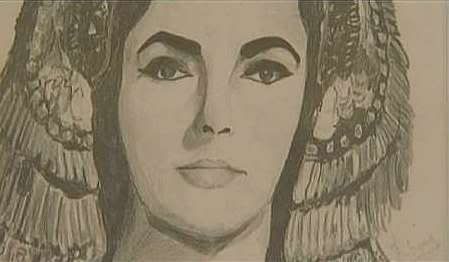 Elizabeth Taylor...I think...
OKAY! Now for the story! For Halloween, some friends and I dressed up in our costumes and went to the mall. I was dressed up as Freddie Mercury from the
I Want To Break Free
music video. For those of you that don't know what that looks like, here's a picture (yes, I havelots of pictures in this entry! It's wonderful!):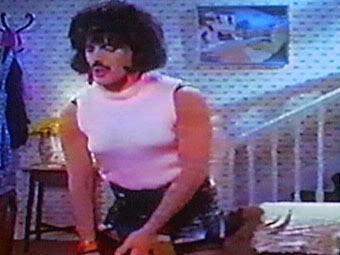 Two kill joys didn't dress up at all, one girl dressed as a vampire, and we had two grim reapers. So yes, I had the most frightening outfit! ; ) Anyways, we were supposed to go around and film people (and ourselves) doing these ridiculous things on this list. For example, I proposed to one woman (on one knee and everything), sang a love song to this really cute couple, and got a security guard to give me and my friends a group hug. All the while, I was dressed like Freddie in the above picture. Lol, I almost went into Hot Topic and sand
Jingle Bells,
but they wouldn't let us...: (
Okay, so we were having a really great time, when a security guard (not the same one from above) came up to us, and said, "Leave the premises immediatly." (Random note:
Happy Jack
by The Who just came on my MediaPlayer; I love the drums in it! Go download it off of Napster or something, it's a great song.) My friend's mum said, "But we were asking people before we filmed them!" Well, evidently that didn't matter, 'cos we still got kicked out. I walked away, mumbling under my breath about how the security guard was being a kill joy, and then saying a bit more loudly, just to see what he would do, that I wanted to go toke a joint (DISCLAIMER: I do not do marijuana, or any other drug for that matter. The closest I've ever gotten to marijuana is smelling it on this idiot stoner that used to sit next to me in class). Sadly, he didn't hear me.
But, I just wanted to say one more thing...
HAHA! I BEAT YOU BECCA! GETTING KICKED OUT OF THE MALL IS WAY BETTER THAN GETTING KICKED OUT OF WALMART! lol
I had SO much fun! I wanna do it again...