The Search is OVAAAAAAAAAA!!!!!!!!!!!!!!!!!!!!!!!!!!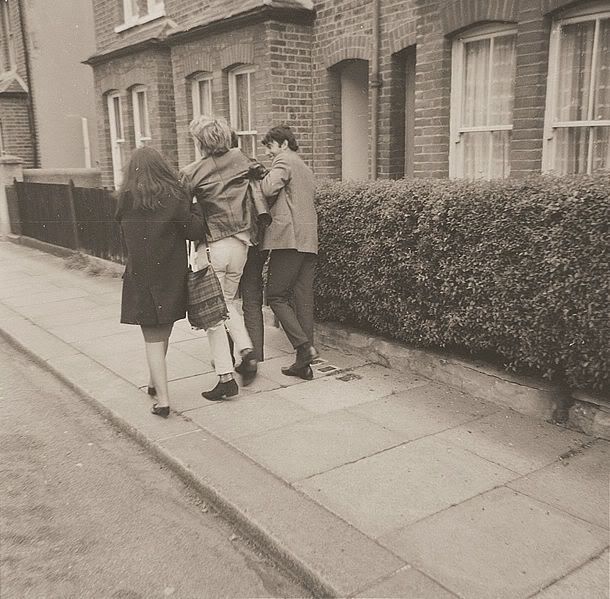 (Freddie's on the far right. This is from his university days, and he was going somewhere with some friends from a pub.)
And I couldn't be happier. XD It just made my day. Remember that guy from homecoming? Well, since then, I've been trying to find out who he is. I'm infatuated with him, to be honest: I don't know if he's a jerk or what, so it's just infatuation. But I've been trying very hard to find out his name. I couldn't ask him: the only time I see him in the day is between my 3rd and 4th period classes in the hallway (In that time, I try to lock eyes with him and smile. I WILL be noticed, darnit!), so I was asking around. Today, I found out his name. :D YAY!!! I'm not quite as pathetic! Quite...hm...I guess it IS pretty sad that I tried that hard just to find his name...Ah, well. I just want to talk to him, at least. I mean, is that too much to ask for? Just talking. I know I have no hope for anything else, anyways. Besides, I have other "interests;" I don't want to tie myself down to one. Not now, anyways. :P
So, yeah! Just thought you should know. I finally found out his name. My reputation has been killed, but I found out his name.
Wait, who am I kidding? I never had a reputation to begin with.
Oh, and guess what? Across the Universe FINALLY came out where I live, and I'm going to go see it tomorrow! :D Kookookachoo.
I also missed John Lennon's birthday. :( Sorry, Johnny. Well, anywho, happy belated birthday!!!!
Love you all! <3