ALL HAIL ZE MAGIC BOW!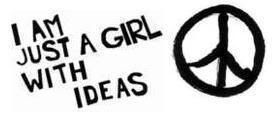 First of all, the video of the week. Across the Universe by the Beatles. The guy that did the animation in this video only used MS Paint and MovieMaker. I love it. And I love the song with a passion. Jai guru deva!
And I have something to say.
The way I dress affects my mood.
Right now, I feel positively giddy because I am wearing a big, green bow in my hair.
Yesterday, I was positively giddy because I was wearing pink. Lots of pink.
One girl even said that my bow made her day.
My middle-aged math teacher rides a motorcycle.
I laughed.
Hard.
Um...
I'm divorcing my husband, a tall, cute, blue-eyed musician named Wes, for the second time. I'm now marrying Danny, a taller, cuter, bluer-eyed musician.
I'm going to the Geography Bowl tomorrow: I'm missing school. I am in charge of Russia and I am team captain.
Um...
Jai guru deva...? I already said that, didn't I?XD
I have nothing to say, really...
So. Bye. Love you all!
Grey